Bios & Credits
About filmmaker Shannon O'Rourke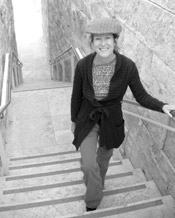 Since graduating from UC-Berkeley with High Honors, Shannon has worked in non-fiction television for the past 15 years as a writer-producer-director for networks including CBS, A&E, Discovery, TLC, and Court-TV. Her documentary debut, In the Name of Love, about Russian mail-order brides, won best documentary awards at several festivals before being acquired by the Discovery Times Channel and international broadcasters. It was edited by Yana Gorskaya (Spellbound,) and Executive Produced by Sydney Pollack. Shannon is editing her second film Maybe Baby, about single motherhood, and is working on a third film, 7 Minutes, about sex workers in California and New York.
Click here for Shannon's 2nd film, MAYBE BABY.
Click here for Shannon's website.
Credits
Executive Producer: Sydney Pollack
Editor: Yana Gorskaya
Cinematographers: Sergei Drozdovsky, Chapin Wilson
Composer: Daniel Hulsizer
Co-producer: Chapin Wilson